Are you planning a trip to downtown Palestine and need a cozy place to stay? Look no further than The Historic Event Center's charming and updated airbnb suites. Owned and operated by Kevin, a seasoned airbnb Superhost, these two suites offer a comfortable and inviting atmosphere for any occasion or any trip to downtown Palestine.
Loft #1 in Downtown Palestine
The Historic Event Center's downtown Palestine airbnb is designed to make every trip to Palestine as special and stress-free as possible. This quaint and cozy space located in downtown Palestine has been updated with modern amenities and tasteful decor to create a beautiful and inviting atmosphere.
Loft #1 offers plenty of natural light, creating a bright and airy atmosphere that's perfect for working remotely or viewing the downtown Palestine skyline. The large windows offer stunning views of the surrounding downtown Palestine landscape, adding to the ambiance of the space. Perhaps one of the biggest advantages of loft #1 is its close proximity to the amenities downtown Palestine has to offer.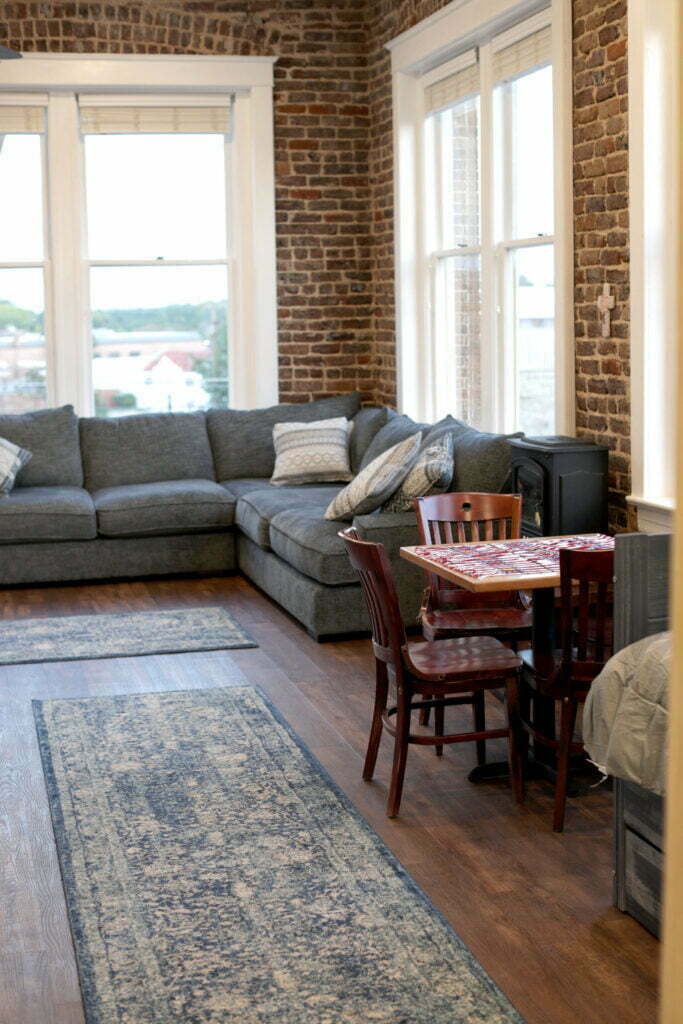 Loft #2
The other airbnb offered makes for a great stay if you need extra space for a large family, or if you are traveling with friends and want to maintain family privacy. Loft #2 in downtown Palestine is a stylish space that provides the perfect retreat in the heart of downtown Palestine. This cozy and updated suite is designed to offer a comfortable and relaxing atmosphere, with all the amenities you need to work from home or just unwind.
This airbnb features a large study area with plenty of desk space and comfortable seating, making it the perfect spot to catch up on work or just relax before your fun downtown Palestine festivities begin. The suite also includes a comfortable living area, complete with plush seating and a flat-screen TV, providing the ideal space for you and your friends to hang out and enjoy some downtime.
Stay in Downtown Palestine
Both suites feature updated amenities and plenty of space for guests to spread out and relax. The kitchens are fully equipped with everything you need to whip up a meal, and the study areas offer plenty of space to work or catch up on some reading. And, of course, both suites boast a cozy and comfortable feel that will make you feel right at home.
Complete Your Downtown Palestine Trip
These cozy and updated suites are perfect for any trip to Palestine, whether you're visiting for work or pleasure. With spacious kitchens, study areas, and comfortable living spaces, these suites provide the perfect home away from home for travelers of all types.
If you're in town for business, the Event Center Lodging provides a great atmosphere for remote work. With high-speed internet and plenty of workspace, you'll be able to stay productive while enjoying the comfort of your own space. And when the workday is done, you can unwind in the cozy living areas or explore downtown Palestine.
If you're in town for pleasure, the airbnb suites provide the perfect base for exploring all that downtown Palestine has to offer. From historical sites to natural wonders, there's plenty to see and do in this beautiful part of the world. And when you're ready to kick back and relax, the comfortable and inviting atmosphere of the suites will make you feel right at home.
Call Your Downtown Palestine Superhost
So why wait? Book your stay in these lofts today and enjoy a comfortable and convenient home away from home. Throughout your stay, you'll have the peace of mind that comes with having Kevin as your downtown Palestine Superhost. With his experience and expertise, Kevin will make sure that your stay is easy to book and stress-free. Whether you need help with recommendations for local attractions or just want to make sure that everything is running smoothly, Kevin is always available to help. So whether you're in town for business or pleasure, The Historic Event Center's airbnb suites provide the perfect home away from home in Palestine. Contact us for more information, or for booking assistance.