Our Wedding Reception and Other Special Events Venue
Wedding Services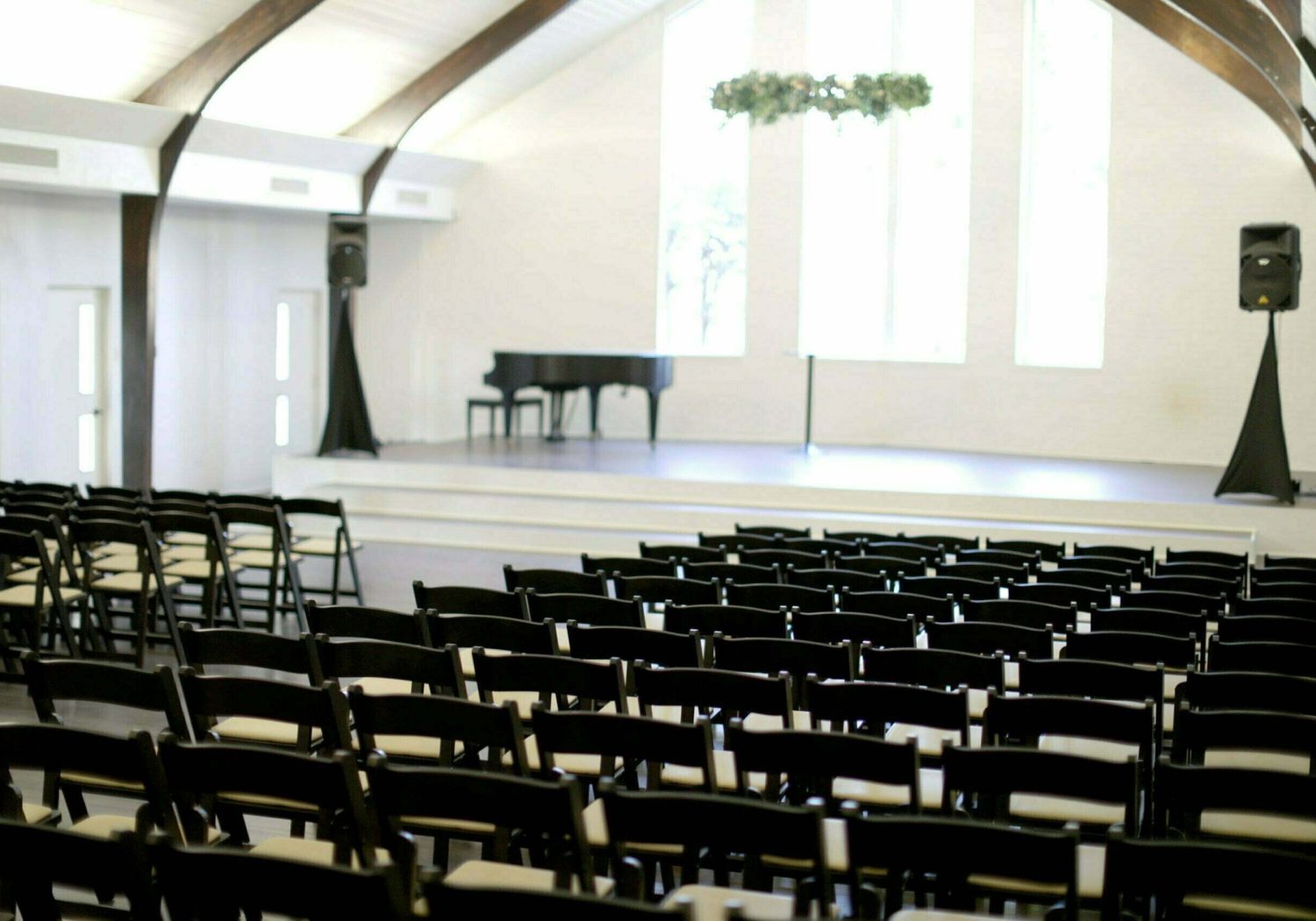 Our Wedding Chapel
Our newly remodeled chapel has a vintage flair with rustic tones, high ceilings, and a big altar perfectly sized for your customization. With little to no decoration, our chapel has its own character that will accommodate any wedding. It is right across the street from the venue, so all your guests can walk right over to the reception after the wedding ceremony.

When you book your wedding reception, ceremony, and events at the Historic you will have a day of venue manager onsite during your event to make sure things go well and you have the wedding of your dreams.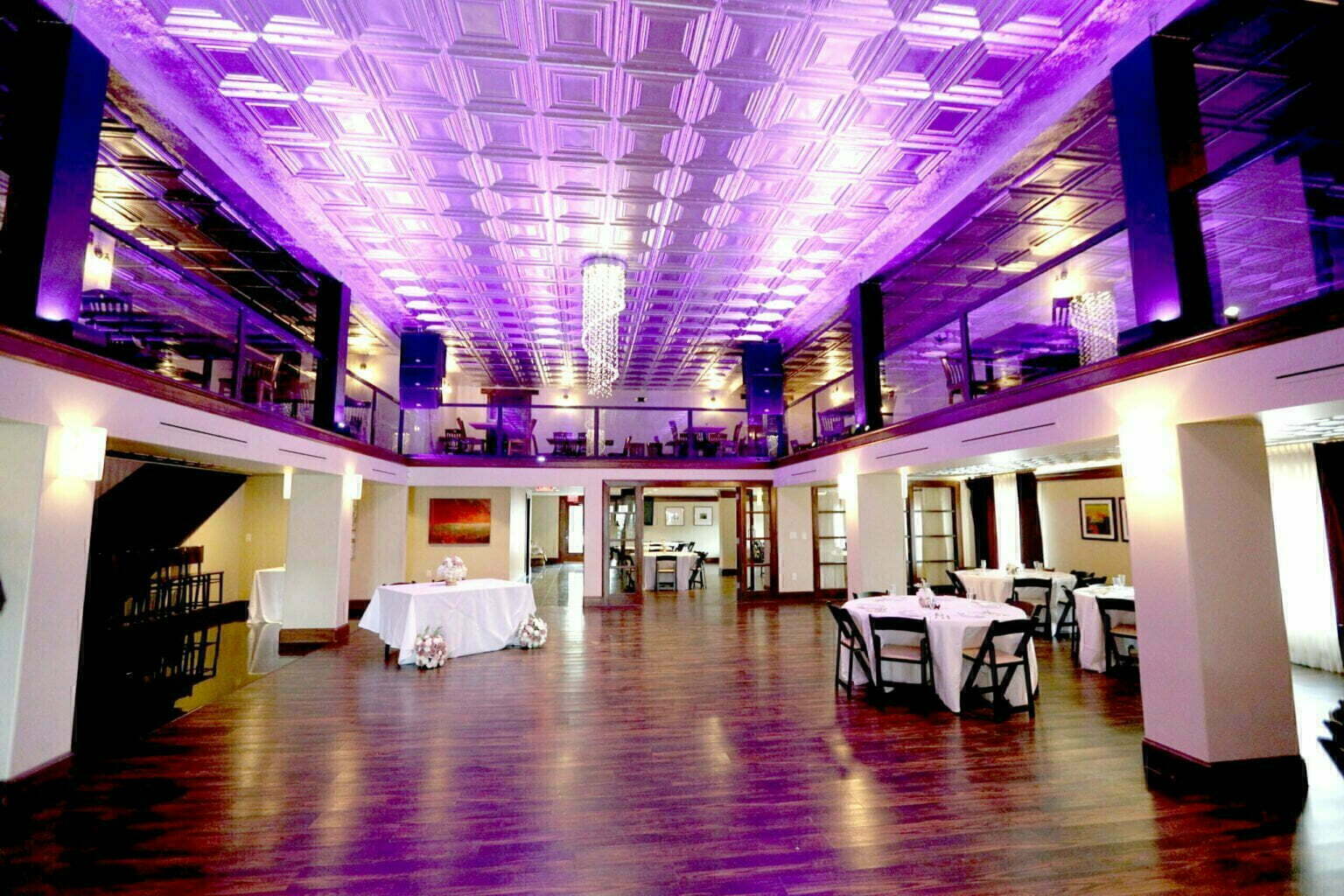 Our Reception Hall
Tucked away in the bustling heart of downtown Palestine lies a true gem of a wedding reception hall. With its rich history and timeless elegance, this venue offers the perfect setting for a truly romantic celebration. Upon entering the hall, guests are greeted by the stunning sight of a grand bar, set aglow by a warm, inviting light. Bartenders stand ready to mix up a range of delicious cocktails, using only the finest ingredients and time-honored techniques. But the bar is just one of the many features that make this reception hall so special. From the intricate details of the ornate ceiling to the richly upholstered chairs that surround each table, every aspect of the space has been carefully designed to create a sense of romance and intimacy. Whether you're planning a small, intimate gathering or a larger celebration, this historic reception hall is sure to provide the perfect backdrop for a truly unforgettable wedding reception.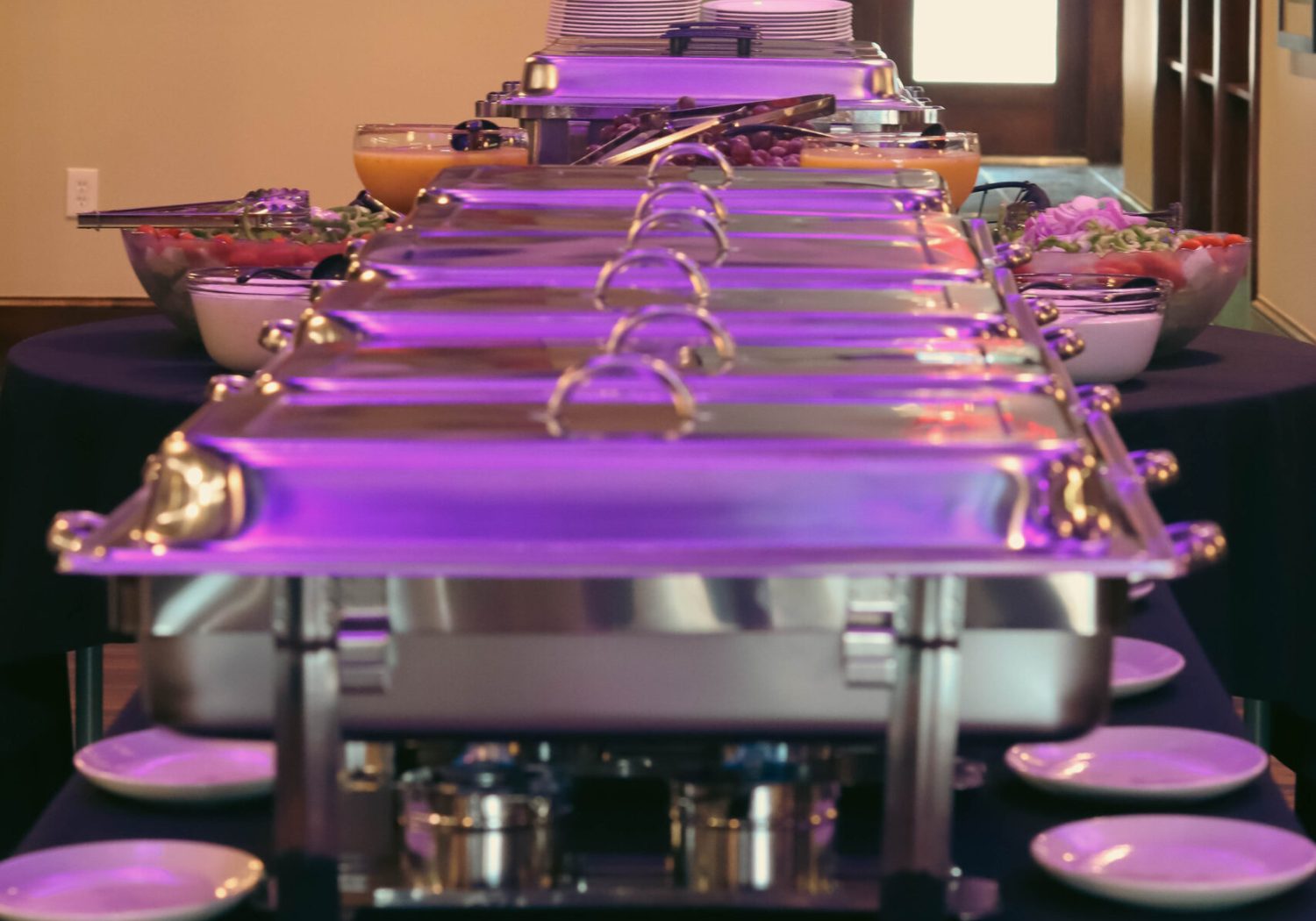 Our Dinning Service
Hosting an event at The Historic is already a special occasion, but adding a dining experience to your event takes it to the next level. Our culinary team takes pride in using the freshest ingredients to create dishes that will tantalize your taste buds. With a menu that can be customized to fit your needs, you and your guests are sure to have a memorable dining experience.
Wedding Coordination Services with Event Coordinator Lauren Vaughan
Lauren Vaughan is our experienced in-house wedding coordinator and venue manager. She is friendly, professional, and resourceful. Lauren is our venue manager. You can also hire Lauren to be there to oversee your big day and plan the event, and she's always ready to lend a helping hand. Her wedding planning and coordinating service is one of our preferred services available to all of our wedding clients for an added fee. Give her a call today, and she will help you plan the most memorable day of your life here at The Historic Palestine Event Center.
Day-Of Wedding Venue Manager Lauren Vaughan
Why worry about the real-time details of your wedding day? You have celebrating to do! Leave that coordination to Lauren Vaughan. She will make sure that everything runs smoothly and on-time.
Lodging for Bridal Parties and guests
Get ready for an unforgettable experience in the heart of downtown Palestine! Enjoy the ultimate event experience with the convenience of our two adjacent rental lofts located at The Historic Event Center in downtown Palestine.
Our Downtown Palestine Lofts for rent make your bridal lodging plans seamless and affordable, as they offer the perfect combination of comfort, privacy, and proximity to the event center. With a prime location, you'll be able to easily access the event center and everything it has to offer, making your stay both comfortable and stress-free.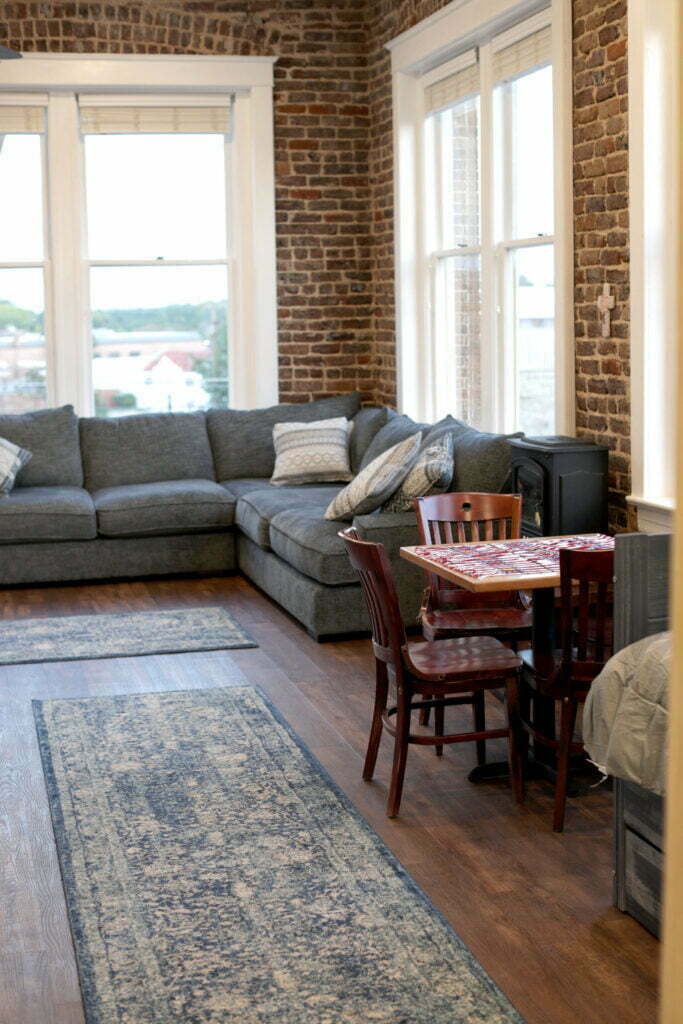 This bustling city center is full of excitement and adventure, offering a unique blend of history, culture, and modern amenities. It's the perfect backdrop for your perfect day. From exploring local shops and restaurants to taking in the sights and sounds of the city, there's never a dull moment in downtown Palestine.
Discover why downtown Palestine is quickly becoming one of the coolest and most fun places to be. Book your stay now and get ready to make lasting memories at the one-of-a-kind Historic Event Center.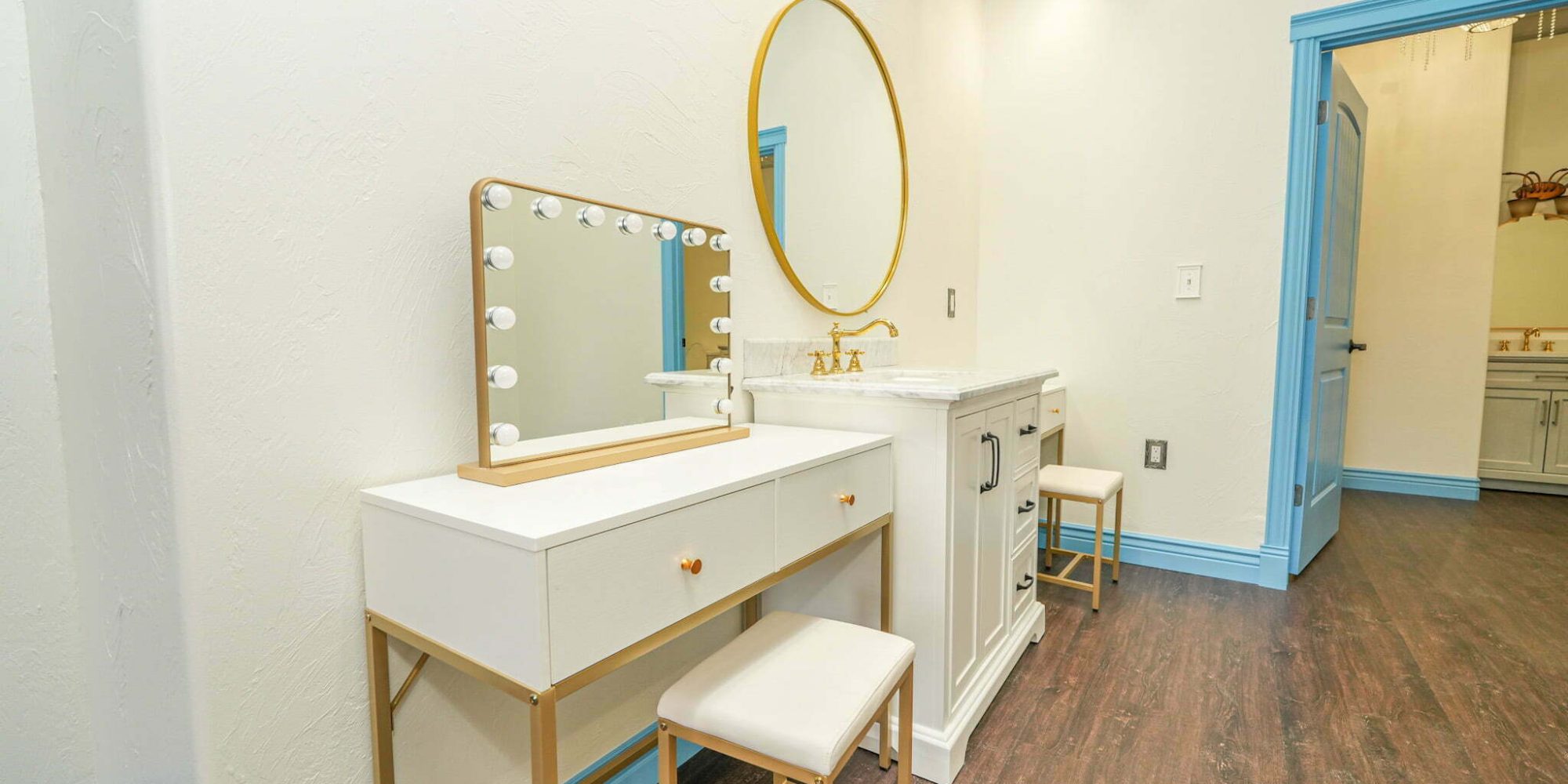 Say 'I do' to a picture-perfect wedding day with our spacious bridal suite located in our event center. Designed with the classy bride in mind, this luxurious suite features ample room to accommodate your entire bridal party and all the preparations that come with the big day. From hair and makeup to the final touches, you'll be able to get ready in style with the help of large mirrors that provide ample space for everyone to see themselves. With a relaxed and comfortable atmosphere, the bridal suite is the perfect place to get ready for the most important day of your life, and for those dreamy getting-ready shots. Book now and let us help make your wedding day unforgettable.
The Historic pairs up with The Little Pioneer School to offer childcare services for your event. The best part is that they are located right next to our chapel!
Make your event experience stress-free with our top-notch childcare service offered exclusively through The Little Pioneer School. Allow yourself to fully enjoy your event without any worries about the little ones by leaving them in the care of our experienced and trusted staff. Our childcare service provides a safe and fun environment for children to play and learn, giving parents the peace of mind they need to fully immerse themselves in the event. With a kid-free environment, you can enjoy a stress-free experience and make lasting memories without any distractions. 
With the added peace of mind that comes from our licensed and highly trained childcare providers, you can rest assured that your children are in the highest of care. At The Historic Event Center, we understand the importance of entrusting your children to a safe and reliable environment. That's why our state-of-the-art facility is equipped with an indoor playground and staffed by professionals who are passionate about providing top-notch care. With a focus on safety and fun, the children will have a great time while parents can relax and enjoy their event. Book now and let us help create a worry-free event for you and your family.

The Historic is always booking fast, so don't hesitate to schedule a tour! We are more than excited to help you create memories that will last a lifetime and help you design a gorgeous event where you can share beautiful moments with your family and friends. Give us a call, or send us a message and let's make your celebration the talk of a lifetime.
Whether you need an event venue for a wedding, graduation, birthday party, live music, or anything in between, The Historic is the perfect venue. It is located next to the Texas theatre in Palestine, Texas, right in the heart of downtown. Get in touch with our staff to schedule a tour today or to learn more about our packages! Let's make your event memorable.
If you are interested in hosting your wedding at The Historic, please click the button below and fill out your information to download our pricing pamphlet.
If you are looking to host a graduation, birthday party, live music, or anything in between at The Historic, we would love to hear from you. Please click the button below to fill out our contact form.